In Between
The title of this article is one that I came up with when I started writing this, but Peter realised that it's also the name of a Daniel Kirkley song which is quite appropriate to our situation - two people with their differences, but united by love. We thought that was cool :)
This is a part two of sorts for Peter's and my ongoing love story.
Mirjam
People have often asked me all sorts of questions about our relationship. How do you guys cope? Wait, you have dates with him, how? Isn't it hard? It must be hard?! And so many more. And that got me thinking, how do we actually do the in between time? The time when he is about 16 000 km away from me, love of my life. Person i love so much. How? Well that's why i thought i'd write this.
When he left after seeing me cry oh so much at the airport and me having my heart in pain that felt physical as a person who grew so close in 4 days together needed to walk away. He had to go, i know. I would've stopped him if i could. But i knew he had to go. I stayed there, in a corner of Tallinn's airport for a while. Trying to gather myself. I run out of tissues. Typical. I never have enough tissues! Not sure why, but God has made me to be this emotional person. On the watery side as some of people say. And yes, admittedly i am that. I cry quite a lot. But i prefer that to being not caring or holding everything in.
Anyway, i gathered the piled up tissues and threw them out. I needed to move. It was getting late. I put on my sunglasses even when it was already getting dark. I didn't care then. I didn't want anyone seeing me like this and if i had the money i would've taken a taxi home and stayed there. For days cooped up. But i couldn't. I knew that if i would do that, i would be worse. See with almost 30 years in this life, you get to know yourself a little. You know how you act if something breaks you. And for me that had just happened. The days after he left are vague. I remember talking to him. Staring at the screen watching how his flights are going. And i was more at peace when he got home. He has a family to help him cope. Me, well i lived alone then. And needed to deal with it. I tried putting on a brave face when we spoke on video chat, it didn't work for long. I can't lie or pretend to be something/someone else in front of him. He knows me too well. Already. So i cried. A lot. Run out of tissues, bought some more. Ate chocolate, watched movies. And at the same time, tried preparing myself to move away to Denmark.
Let me say this, long distance relationship sure isn't for people who don't handle struggles well. I mean struggle just got real. And so real that it hurts sometimes. It took a few weeks to get back to well better. Not normal, but better. So i wouldn't cry as much. So my heart wouldn't ache as much. Would i still be missing him? Sure! And oh how much! At first it was almost like this stinging in my heart and knotting in my stomach. Like part of me is missing. It got better over time. But i just needed to deal with it. Talking to him more helped, a lot.
So how do we keep this thing going? Well first of all, we have set some boundaries. And sure it may sound old-fashioned for some, admirable to others, but this is how we plan on doing it. Before he came we had spoken about boundaries and i find it very refreshing that we can speak honestly and openly about things like that. For example, not being in the same room just the two of us, or if we are leave the door open. And no pictures or video calls after you go to bed. Why? Because all that can and possibly may be tempting. And i'd rather be safe than sorry. I heard a sentence once that i remember now "As soon as you think you are stronger than sin, you better run, because you are already thinking that you got this!". You need God. No no, you can't beat sin on your own. No way! I know this. I know that without God and without healthy boundaries, well you know. We probably wouldn't then wait until marriage. But we will. Because we want this purity in our relationship. Is it easy? No. But in a weird twisted humour i have been able to find a boyfriend who is half the world away and that kind of helps to eliminate physical temptations quite a lot. Just have to be more aware when we are together again.
Besides that. We pray together. 99% of days at least. After all we are humans and sometimes we forget or something has come up or whatever else. But we try. We want God to be in this relationship and we try to make that happen. Sometimes praying is what calms me down. Not that it would solve our problems, or something, not immediately. But it sure helps. We try our best to talk things through. Yes that is hard sometimes. Especially with me being overly emotional unreasonable and irrational at times and him being calm and reserved. I am sure that would look funny when someone would be observing from the side. But we manage. He calms me down, is patient, waits, encourages. And i ask forgiveness. If needed. Or we both do sometimes.
We both have learned a lot about communication, because with LDR (long distance relationship), that's what you basically most times can do. Talk. And talk. And discuss and question and think and say and well you get the picture. But that is not all. We have found ways to entertain ourselves and even have dates! Like watching movies synchronised. Or sermons sometimes. Or asking each other all sort of weird questions that we find online. Or playing games together. Well you find ways to make things a little lighter and fun, when you have talked about serious stuff and not serious stuff and you need some distraction.
When either of us is sleeping then we just write on Viber to each other. Random stuff we do, or find online. And when the other one gets up, we talk them through. Or send photos, videos or voice messages. For example going for a walk and taking a video just so he'd feel a little closer to me. Or him sending me a voice message and saying that he loves me, but not in english, but in estonian! Adorable!
Besides all the online stuff, we write. Like on paper you know. Old school people! And i love love love receiving mail! I don't know what makes it so exciting and wonderful. But it's somehow more amazing to receive something on paper. He wrote this, took time off the screen and wrote me! And i write back. Sometimes he sends me flowers or chocolate (online options are endless!) or gifts. Or just recently i got my first "care package". Oh i loved it! Not gonna reveal stuff inside, but well he sure is one extremely amazingly romantic man and i love him for those little and big things so much more! He knows how to get to me and it's amazing!
And then there's all the daydreaming of visiting. First there's the phase where you don't know when you are gonna see each other again. It's a sad place to be. Maybe christmas, maybe next year? Who knows. At one point he decided to make it happen and got me tickets there! Yay! But before that there was a long praying time, if this is right, debates in both of our minds if this is reasonable. Not to mention finding flights and dates and all that. (Me hating details, him loving organising all that :D ) And i got the tickets. Oh no, now i actually have to fly alone! It's gonna take me about 30 h of travelling to get to him. 3 flights and layovers. But as he was willing to come to me in Estonia, i shall travel to him to Australia! My first ever trip alone this far. My first ever vacation. My first ever time going to such a warm country. My first ever weirdly warm christmas without cold. But for him, i shall do this! No it's not gonna be easy. Not the flying part, being alone in different countries and airports and planes. Not the heat part. But the part where i get to spend two weeks with him, that's gonna be amazing. I already fear that i won't have enough tissues for the airport when i need to come back. But i'll try not to think of that at the moment.
Right now, i think of things we can do together online. I think of how he can handle all my emotions and he is still here and i am amazed that God has brought this wonderful man to my life and i hope and strive to be better for him too. And if you girls out there might wonder if i dream of a wedding, sure, but not like typical girls think of their dresses and all those details. I'm a little different. I wish i could just get there, without the details. Can i just come to the party without all the organising and details part? :)
Anyway, we dream and talk. And soon, i'll be with him, meeting his family, friends, church and this wonderful land that keeps my boyfriend from me. This is how we survive. We talk about it. If it's hard, i tell him. If he is having a problem, he doesn't necessarily know how to tell me always, but i try asking. But we both try hard to make this work and that is one of the key ingredients in a relationship. You want this to work? Then make it work. With God anything is possible. So far i've seen God come through in so many ways and He keeps surprising me. Be it with the peace that Peter has, or the fact that somehow i will be travelling across the world for two week vacation with my boyfriend and his family. Well i sure would say that without God leading, we wouldn't be here. I am grateful, and happy to have Peter. But struggle is real. Just trying to make the best of it when we are apart. And make it count when we are together.
PS! Send me tissues, or chocolate. Or both, if you want to help out. ;)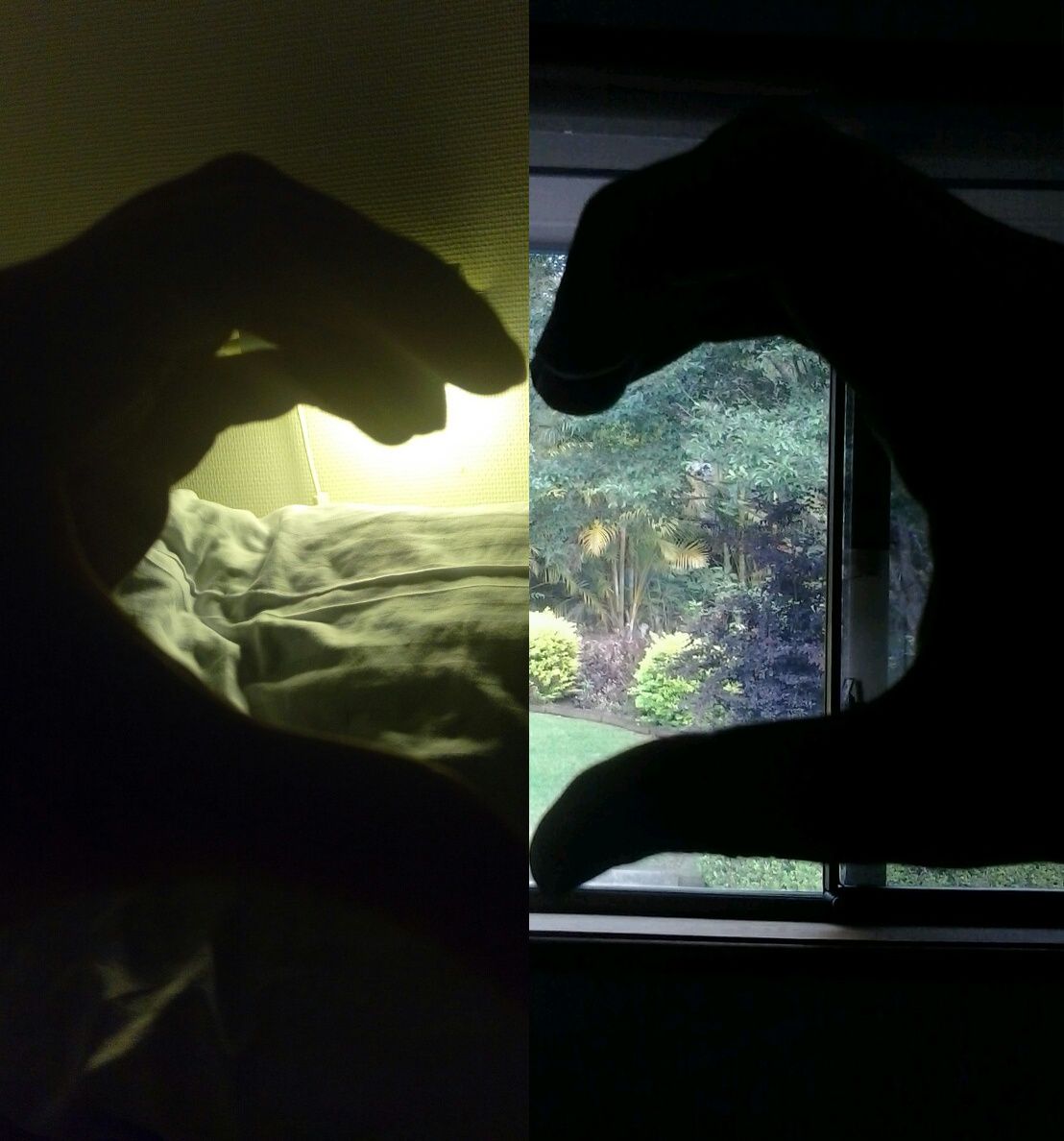 Peter
When I had to leave Mirjam in tears at the airport, it was one of the hardest things I've had to do, and yet I had a strange peace about it. Maybe that was God giving me the strength to get through that time (and the long trip home). Flying home wasn't too bad in terms of my emotions, maybe because I had things to concentrate on like finding flights, gates, etc., but once I got home I was a mess. For the first week or so I was sad, upset, lonely and generally missing Mirjam and everything we'd shared during our time together. Then there were thoughts of the future and what that held for us as a now-dating couple living on opposite sides of the world.
I know a couple from church who I'm good friends with and who went through a similar long-distance relationship when they were dating/engaged (though not nearly as far and without the time difference). I met up with them the day after I got back from Estonia and we had a good chat, prayer and advice. Then at church on Sunday I felt to ask for prayer from the pastor and one of the elders, so I did that and they were happy to pray with and for me after the service. It's such a blessing to have people in your life you can go to for prayer and support.
During my trip home, and ever since then, I have been talking with Mirjam each day, either typing to each other online (whether via email or a communication app) or free video/voice calls. In fact, I don't think a single day as gone by in the six months we've known each other where we haven't communicated in some way. Thank God for technology; especially the ability to actually talk to or see each other for free!
When Mirjam moved to Denmark we were concerned as to how that would affect our communication. But praise God that the Bible college has excellent wifi (better then we have here) and that Mirjam was able to take her laptop to Denmark. As a result we are able to video chat each day (despite the 10 hour time difference) where we catch up with each other and what we get up to while the other one is sleeping, and also pray together. Prayer is an important part of our relationship, not just with God but with each other. I strongly believe that prayer should be the foundation of any Christian relationship. We also try to have a date each week. This is a time when we're both more free on the weekend and can spend more time together. So we talk, play online games together or watch movies, TV series or sermons.
And apart from writing to each other online, we also write physical letters sent via snail mail to each other. They take a while to receive, but that's half the fun - the anticipation of waiting for Mirjam's letter, checking the letterbox each day… We also send parcels to each other when possible (it can be quite expensive though) of treats and gifts from our country for the other to enjoy or remember us by. And I've also found a way to have flowers and gifts delivered to Mirjam for special occasions. That makes it nice and easy to send her a flower to show that I'm thinking of her, or a box of chocolates when she needs a pick-me-up. At one point (on her birthday) I thought to send her a cupcake, but I left it too late and couldn't find anywhere online that would deliver to her that same day. So I ended up baking her a cake here and sending her a photo of it instead :)
We're both learning more about the other person (and about ourselves) each day. We have both been really interested to learn about our personality types and in what ways we're the same and where we're different from each other. I'm learning about what makes Mirjam tick, how she thinks, how I can help her with her emotions and how to show her love and affection in the way she best receives it. She's also learning similar things about me. It's not easy sometimes - we have disagreements, see things differently, our personalities clash or we upset each other with our actions or words. But through it all we both still love each other and God gives us the grace to forgive each other any wrongdoing just as He forgives us ours. That's one of the things that has made me realise how much I love Mirjam - no matter what she does, I can and will always forgive her. Because when you love someone that much, there's nothing they can do to make you love them any less. And it's amazing to see how God's love for us is where we draw our inspiration and strength for our love for each other.
As we approach the day when Mirjam and I will finally see other other again in person, we get more excited and the longing grows. Mum, Dad and I will be spending Christmas with my grandparents in Sydney, so Mirjam will fly into Sydney, arriving on the 24th of December. She and I will spend the day together, then she'll come around to my grandparents house on the 25th for Christmas (she'll be staying in a nearby hotel). We'll spend Boxing Day together (maybe with family, maybe by ourselves) and then Mum, Dad, Mirjam and I will all travel back to Coffs on the 26th. Then Mirjam spends almost two weeks here with me and my family! We decided that she'll stay here at home with us, downstairs in the guestroom. We debated about this for a while, but ultimately it's the easiest/cheapest option and we've made sure we have set boundaries for ourselves so as to minimise any temptations. As Christians we're both waiting for marriage and are very aware of how the enemy would love to destroy that commitment we've both made to God and to each other.
Mirjam leaves Coffs to fly home on the 8th of January, after which we'll once again be trusting God with our next meeting. If finances weren't an issue, then I'd travel to Denmark to spend a month with her at college next year while Mum & Dad have a holiday in New Zealand. But that all depends on God's provision. We are both praying about and trusting God with our future together. It's hard to not know what the future holds or what God has in store for us, but He sees all and His ways are greater than our ways, so all we can do is trust in His unfailing love and faithfulness to us.